Merry Christmas and a Happy New Year from all of us at ecls translations, your partner for language and culture
In the UK, our Christmas trees have been decorated, the city's Christmas lights switched on and our stockings hung up ready for the arrival of Father Christmas on his reindeer-drawn sleigh. The mince pies and brandy have been left out for when he visits on Christmas Eve with presents to be opened together on Christmas Day, followed by a Christmas feast enjoyed with our families. Traditions may be similar, yet there are a number of languages spoken across the UK: we wish others a "Merry Christmas" in England, "Nadolig Llawen" in Wales, in Ireland it's "Nollaig Shona" and in Scotland "Nollaig Chridheil".
But how is Christmas celebrated further afield, in other countries and cultures around the world?
In Italy, the Christmas season lasts for three weeks beginning 8 days before Christmas and is known as Novena. During this time, children visit relatives' and friends' houses singing and reciting poems. They are given money to buy presents and receive their main Christmas gifts from "Babbo Natale" (Santa Claus). Epiphany is the last holiday of the Christmas period, celebrated 12 days after Christmas and is linked to the visit of the Three Wise Men, who reached Bethlehem 12 days after the birth of Jesus, following the Star. According to tradition, the children's presents of either sweets or coal (depending on whether or not they have been good), are delivered by a kind but ugly witch on a broomstick, called Befana. The old lady, who represents the outgoing old year, leaves the presents (or coal) in a large stocking hung near the fireplace. It was said that when Befana was told of the birth of Baby Jesus by the three kings, she was busy and delayed her visit to see the newborn child. She missed the Star and lost her way and has been flying around ever since leaving presents at every house with children in case he is there. Christmas itself is celebrated on the 25th of December, however, most families celebrate on Christmas Eve, enjoying a meal together, attending midnight mass and opening presents.
Only 1% of the Japanese population are Christian, so Japan's Christmas traditions are very different from those in the UK, although many Japanese homes are decorated with evergreens and mistletoe during the Christmas period. Christmas Eve is a key celebration for families with children or nowadays for couples, and the most unique traditions in Japan include cream and strawberry Christmas sponge cakes and fried chicken, with couples enjoying a romantic luxury dinner with great city views on either Christmas Eve or Christmas Day. In Japan, millions of families celebrate their Christmas meal together with a KFC. It's a tradition that goes back to the 1970s when a KFC manager overheard expats looking for turkey. Since then it's become a national tradition with bookings and orders taken weeks in advance. See the BBC's article for more information on how this unusual tradition became so popular: http://www.bbc.com/capital/story/20161216-why-japan-celebrates-christmas-with-kfc.
In Canada, the Canadians are especially proud to say that their country is the home of Santa Claus (although people from Finland would disagree) and the postal system genuinely recognises the address: Santa Claus, North Pole, Canada, HOHOHO. Any letters to Santa are not only opened but replied to as well! The Santa Claus Parade in Toronto is also one of the oldest and largest in the world having started in 1905.
In the Czech Republic, the single ladies have a special Christmas tradition to help them predict their romantic year ahead. On Christmas Eve, single women stand with their backs to the front door and take off a shoe. They then throw it over their shoulder and see where it lands. If the toe points towards the door, they are destined to marry within the year; if it lands heel forward, they have another twelve months of being single.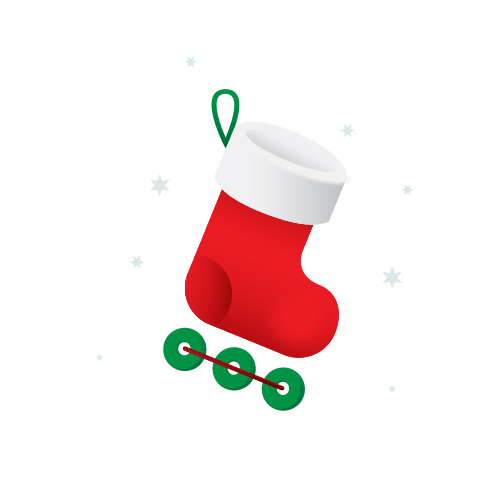 Christmas celebrations in Venezuela are amongst the most colourful in South America. Fireworks are very popular and many homes have a Christmas tree although they are usually artificial, as pine and fir trees are uncommon in Venezuela. Midnight mass is very popular and in Caracas, the capital city, there is a tradition of people rollerskating to the early morning church services from the 16th–24th of December. Roads are closed to traffic before 8am to make it safe to skate.
Wherever you are in the world, whether you've already opened all your gifts, are hoping the shoe points the right way this year or have your roller skates on ready for mass, we wish you a wonderful festive period and all the very best for the New Year.